Connect and display between Wireless Connection Points
EASY TO USE, Easy to connect solutions

Trouble-free presenting and collaboration. Simply share your device on a main presentation screen. No hassle. No messy cables. Just quick, confident sharing. We have unique answers from many manufactures that are selected for your specific needs. Let us provide a simple solution for your requirements today.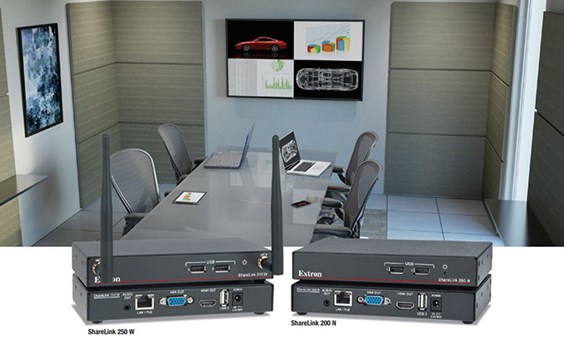 Extron offers their ShareLink™ products to provide wireless display sharing that is simple and secure. They are a proven solution for large conferences as well in small conference rooms and Huddle areas. 
Barco, a global leader in networked visualization solutions, announced that their product ClickShare now seamlessly integrates with Zoom Rooms – the software-based web conference room.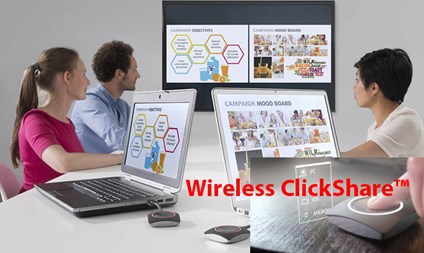 We are your complete source for multimedia technology, whether you need our services temporarily for a large event or installed as a permanent part of your building. We have equipment as diverse as laser projectors, to large LCD interactive write on displays. We can integrate wireless visual display solutions for ease during presentations and BYOD environments. The ability to share your smart phone or laptop wireless to a projector opens new horizons in collaboration. Give us a call to discuss and plan your future projects.
For More Information on Wireless Sharing